Personal & Professional Experience
I've personally been through the types of cases I handle, so I know firsthand what you're going through. And, with two decades of legal experience on my side, I know how to support you.
Open & Honest Communication
When you're dealing with something as emotionally charged as a divorce or as overwhelming as bankruptcy, you need a straightforward legal partner. I am here to be that for you.
Friendly & Flexible Service
I know how hard it can be to juggle life's demands, especially legal matters. I pride myself on being available and adaptable to your needs. Don't face this alone—reach out to me today.
Bankruptcy and Divorce Attorney
in Holbrook, Massachusetts
Doug Surprenant
Attorney at Law
As your attorney, Doug Surprenant, Attorney at Law, I have over 20 years of experience serving those in Holbrook, Massachusetts, and the surrounding areas of Norfolk County, Plymouth County, Randolph, Brockton, Braintree, and Abington. I've dedicated my career to understanding the ins and outs of divorce and bankruptcy laws, and I'm passionate about using that knowledge to fight for you, working with the goal of helping you achieve the best possible outcome.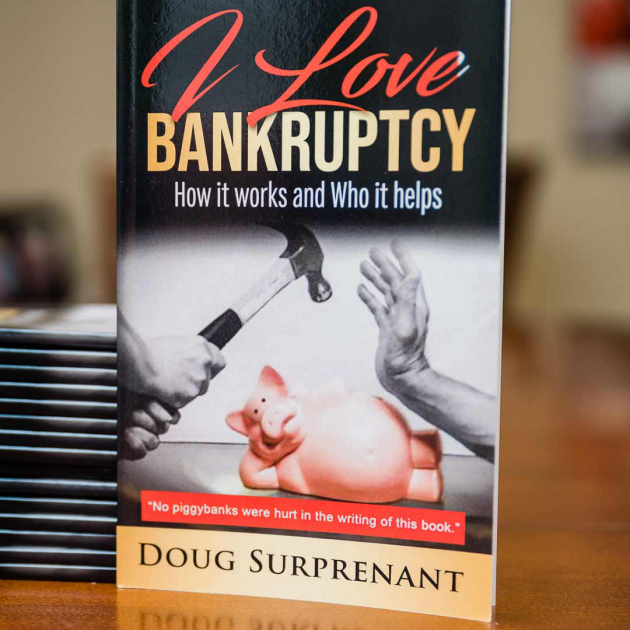 Take Control of Your Debt
Chapter 7 Bankruptcy
---
For individuals with limited income who are struggling with significant debt, Chapter 7 bankruptcy may be right for you. This type of bankruptcy is typically used by folks who don't have a lot of assets and are dealing with a significant amount of unsecured debt like credit card bills or medical expenses. At the end of the process, most of your debts are wiped clean. Reach out to learn if it's the right choice for you.
Chapter 13 Bankruptcy
---
On the other hand, Chapter 13 Bankruptcy might be a better fit if you have a steady income and want to protect your assets. This process involves creating a court-supervised repayment plan to pay off your debts over time. Rather than selling off your assets, you'll work out a repayment plan to pay back your debts over a 3-to-5-year period. It's like a structured, court-supervised debt repayment program, allowing you to keep your home.
Testimonials
I HIGHLY recommend Doug to anyone in need of a legal professional - he is very attentive to details very compassionate to your problem very professional in how he conducts himself and his business and the most straightforward and honest person I ever EVER dealt with in the business world. Doug got me a tremendously fair settlement. -I cannot say enough about Doug's attitude and commitment to winning my case and more importantly my coming out with a settlement that was fair and just. I had 5 or 6 other law firms turn my case down or tell me there was not enough money (for them) to bother with- then Doug did what all other said couldn't be done! Want an actual- real life case-mine. Want real life professional help-call Doug
While attorneys generally seem apathetic to personal experience, Doug listens and empathizes. He actually gets engaged in his client's experience, at least that was my experience. Becoming better acquainted with him over a decade plus, I can attest to his varied life background that has given him this affinity to me, and, from what I know, a few of his other clients.
Trusted, knowledgeable, kindly. What more can be asked of a gentleman who happens to be a damned good lawyer?
I would recommend The Law office of Doug Suprenant.Doug was very professional and helpful with any questions or concerns.If I need representation again he will be the person I call.
Navigate Complex Legal Procedures With Ease
Facing any legal issue can be stressful. Divorce, bankruptcy, probate, employment issues, real estate, and more can be serious and complex, especially considering all the emotions involved. Whether you're considering Chapter 7 or Chapter 13 bankruptcy, I can help you assess your situation, weigh your options, and make an informed decision. Real estate matters can range from buying or selling property to landlord-tenant disputes. Probate involves handling a loved one's estate after their passing. My goal is to make this process as smooth and comfortable as possible for you, and with nearly 20 years of experience under my belt, I've been committed to helping folks like you navigate your legal issues, so reach out today.
Having a seasoned guide by your side can make all the difference, no matter what legal procedure you're dealing with. Whether you're facing the emotionally fraught journey of divorce, the intricate process of bankruptcy, the complex probate process, or grappling with employment law and real estate matters, allow me to step in and lighten your burden. Drawing from my years of experience and in-depth knowledge, I am committed to helping you navigate your situation with ease and confidence. While these challenges may seem insurmountable, together we can tackle them head-on. Together, we will discuss your circumstances, explore your options, and devise a strategic plan tailored to your unique situation, to create a better future for you